VideoPocket HD
 

High-resolution compact video inspection system with large display, compare image function, waterproof camera unit and practical mirror, magnet and hook attachments
div>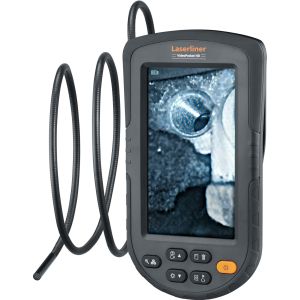 Description: 
This high-resolution and compact video inspection system allows detailed visual inspection of hard-to-reach locations such as pipework, suspended ceilings and vehicles. Six powerful LEDs on the waterproof camera unit, adjustable in ten settings, ensure effective illumination during use. Details can be clearly captured using the zoom function. Inspection results are clearly identifiable thanks to the large colour display and image alignment. The compare image function allows the user to see the differences between the live image and a saved reference image. The images and videos can be saved to the internal photo memory or a micro SD card. The unit's convenient size makes it exceptionally easy to use and transport. The magnet and hook attachments allow hard-to-reach objects to be pulled or lifted. The mirror attachment allows objects to be viewed at a 90° angle.
Effective problem localisation behind or in objects, walls, pipes, cavities
High-resolution camera for detailed image and video capture
Identify specific differences with the compare image function
Small camera unit ideal for hard-to-reach places
Powerful object lighting thanks to six high-performance LEDs
Large, exceptionally easy-to-read display
Suitable image available on the monitor through rotation and mirroring
Waterproof and dustproof camera unit
Magnet, mirror and hook mount for fixing on the camera head
Pull/lift difficult to reach objects
Mirror allows objects to be viewed at 90° angle
Evaluation and documentation using internal photo memory and micro SD card
Attribute
082.262A VideoPocket HD
Title
Video inspection system
Live display
✅
Image/video recording
✅
Image/video playback
✅
Internal image memory
✅
Image comparison
✅
Object illumination
✅
Image alignment
✅
Digital zoom
✅
Data transfer
✅
Diameter camera head
5.2 mm
Number of LED lights
6
Field of view (fov)
65°
Depth of focus (DOF)
3 … 8 cm
Length of probe
1 m
Screen type
4,3" TFT-Display
Ports
Micro USB
Memory
Micro-SD memory card up to 32 GB
Protection class
Camera probe:
IP 67
Power source
4 x 1.5V LR6 (AA)
Operating time
approx. 4 hours
Temperature (working conditions)
-10°C … 50°C
Scope of delivery: 
VideoPocket HD
TopClips
8 GB micro SD card
batteries
carrying case


Documentation:
Product information sheet not available.

Instructions

Instructions part 2

Instructions part 3
Categorie:
Video inspection
Titel:
Video inspection system

Industrial Quality (BlackLine) / Professional Technology (OrangeLine):
BlackLine

Art.No.: 082.262A, GTIN (EAN): 4021563721917
Printversion
Print