PocketPlane-Laser Set 150 cm
 

Three-dimensional, practical laser with one horizontal and two vertical green laser circles, compact 150 cm tripod, and a comprehensive range of accessories – all you need for demanding projects
div>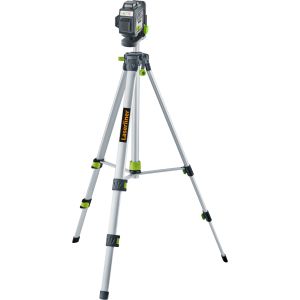 Description: This three-dimensional, compact and highly visible green laser projects one horizontal and two vertical laser circles for precise alignment of objects. The laser crosses form a plumb function for working simultaneously on floors and ceilings. A manual slope mode is available for creating gradients. This laser is all you need for demanding projects thanks to the comprehensive range of accessories. Multi-section telescopic tripod legs and a 30 cm crank on this compact tripod provide an extensive adjustment range. The PocketWallHolder is a multi-functional, height-adjustable, magnetic bracket for attaching to walls, metal items and tripods with a 1/4" or 5/8" thread. The target plate is particularly useful when working close to the ceiling, such as when fitting suspended ceilings, and can be attached to metal profiles with the magnet. It has a stand, nail hole, and a scale in centimetres and inches. These laser enhancement glasses allow laser lines to be clearly seen with the human eye. The powerful lithium-ion battery, which can charged using the USB-C cable, ensures a long operating life. Alternatively, the device can run on mains power using the power supply which is also included.
Three-dimensional laser with a horizontal and two vertical 360° laser circles
Accurate horizontal and vertical alignment of objects
Good visibility through green laser technology
Easy alignment of slopes with manual tilt function
Plumb function for synchronous working on floor and ceiling
Light and robust compact tripod 150 cm
Crank height adjustment and telescopic tripod legs
Height-adjustable, magnetic, multi-function bracket with 1/4" and 5/8" thread for attaching to walls, metal items and tripods
Magnetic target plate with stand, nail hole and dual scale – perfect for working close to ceilings
Laser enhancement glasses for optimum visibility of laser lines with the human eye
Time-saving automatic alignment
Integrated hand-held receiver mode for outdoor applications
Long battery operating time thanks to powerful lithium-ion rechargeable battery
Work efficiently and charge the battery at the same time
Rechargeable via USB-C cable
Can also run on mains power
Visual signals indicate when the device is outside its self-levelling range
Pendulum restraint for safe transport
Attribute
036.703A PocketPlane-Laser 3G Set 150 cm
Title
Three-dimensional laser
Horizontal/vertical levelling
✅
Manual slope function
✅
Battery and mains operation
✅
Hand receiver mode
✅
Levelling
automatic
Ports
Power supply 5V / DC
USB type C
Tripod connection
1/4" thread
Accuracy
± 0.3 mm / m
Self-levelling range
± 3.5° (horizontal)
Visibility (typical)*
30 m
Laser
3D-line laser
Laser wavelength
515 nm
Laser class
2 / < 1 mW (EN 60825-1:2014/AC:2017)
Protection class
IP 54,
dust and splash proofing
Power source
Li-ion battery pack 3.7V / 3.6Ah / 13.32Wh
Operating time
with 3 laser levels: approx. 9 hours
Battery recharging time
approx. 4 hours
Temperature (working conditions)
0°C … 50°C
Scope of delivery: 
PocketPlane-Laser 3G
compact tripod 150 cm
PocketWallHolder
magnetic target plate green
laser enhancement glasses
Li-ion battery pack
network/charging device incl. international adapter
carrying case


Documentation:
Product information sheet not available.

Instructions

Instructions part 2

Instructions part 3
Categorie:
360°-line lasers
Titel:
Three-dimensional laser

Industrial Quality (BlackLine) / Professional Technology (OrangeLine):
BlackLine

Art.No.: 036.703A, GTIN (EAN): 4021563725496
Printversion
Print