DampFinder Compact Plus
 

Material moisture measuring device
div>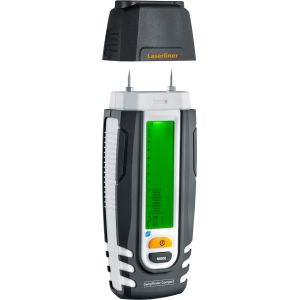 Description: The DampFinder Compact Plus allows fast and accurate measurements of wood and building moisture. The measured values can be transferred through the Digital Connection interface to a mobile phone with the MeasureNote app.
Fast and precise measurement of wood and building moisture
Can be used to test many types of wood
Extended material table with automatic conversion using the MeasureNote app
Index function for optimum evaluation of various material categories
Simple transfer of measured data through Digital Connection interface to mobile phone
Effective testing of the measuring instrument using reference measurement through the protective cap
Easy-to-read display
Scope of delivery: 
DampFinder Compact Plus
protective cap with self-test function
batteries


Documentation:
Product information sheet not available.

Instructions

Instructions part 2

Instructions part 3

Instructions part 4
Categorie:
Humidity and moisture measuring devices
Titel:
Material moisture measuring device

Industrial Quality (BlackLine) / Professional Technology (OrangeLine):
OrangeLine

Art.No.: 082.017A, GTIN (EAN): 4021563707225
Printversion
Print