CondenseSpot Pro
 

Climate/humidity/temperature measuring device to avoid thermal bridges as well as mould and mildew
div>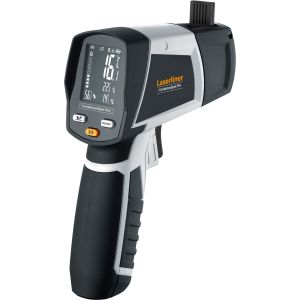 Description: This climate, humidity and temperature measuring device is suitable for preventing the build-up of mould due to its localisation function. The device captures the relevant climate data such as atmospheric humidity, ambient temperature, surface temperature and dew point temperature. The laser circle display allows the measurement area to be accurately targeted. Users are provided with a clear warning if thermal bridges or wall moisture are identified. The Auto-Hold function locks the measured value on the display once a continuous measurement is completed. The Digital Connection interface allows measurements to be transferred to a smartphone or tablet via the MeasureNote app.
For locating thermal bridges and condensation moisture to prevent mould and mildew
Determination of the relevant climatic data air humidity, ambient temperature, dewpoint temperature
Simple transfer of measured data through Digital Connection interface to mobile phone
Bar graph condense water indicator
Colour alarm function
Adjustable emissivity factor: 0,01…1,0
Attribute
082.049A CondenseSpot Pro
Title
Climate/humidity/temperature measuring device
Auto-hold
✅
Alarm
✅
Data transfer
✅
Adjustable emissions level
✅
Humidity
✅
Min/Max
✅
Surface temperature
✅
Dew point temperature
✅
Ambient temperature
✅
Wall moisture warning
✅
Thermal bridge warning
✅
Laser focusing
✅
Measuring range ambient temperature
-20°C … 65°C
Accuracy ambient temperature
0°C … 50°C (± 1°C)
<0°C and >50°C (± 2.5°C)
Measuring range infrared temperature
-40°C … 600°C
Accuracy infrared temperature
-40°C … 0°C (± (1°C + 0.1°C/1°C))
0°C … 30°C (± 1°C)
>30°C (± 2°C or ± 2%,
depending on the higher value)
Measuring range humidity (relative)
1% … 99%
Accuracy (absolute) humidity (relative)
20% … 80% (± 3%)
<20% and >80% (± 5%)
Measured variable
Infrared temperature
Humidity
Ambient temperature
Dew point temperature
Ports
1/4" tripod thread
Laser
8-point laser circle
Laser wavelength
650 nm
Laser class
2 / < 1 mW (EN 60825-1:2014/AC:2017)
Port
Digital Connection
Power source
2 x 1.5V LR6 (AA)
Operating time
approx. 20 hours
Temperature (working conditions)
0°C … 50°C
Scope of delivery: 
CondenseSpot Pro
batteries


Documentation:
Product information sheet not available.

Instructions

Instructions part 2
Categorie:
Humidity and moisture measuring devices
Titel:
Climate/humidity/temperature measuring device

Industrial Quality (BlackLine) / Professional Technology (OrangeLine):
BlackLine

Art.No.: 082.049A, GTIN (EAN): 4021563710928
Printversion
Print