DigiLevel Plus 40
 

Digital electronic spirit levels: precise and easy to use
div>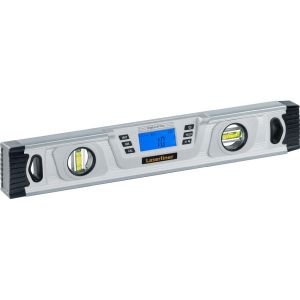 Description: This digital spirit level provides accurate horizontal and vertical alignment as well as transfer of angles. Easy to use due to flip display and acoustic guidance. The magnetic bracket offers the benefit of hands-free working on metal constructions. High measuring accuracy is available due to the calibration function. The units of measurement can be selected on the device which also has milled measuring surfaces.
Precise horizontal and vertical angle display
Reference function for transferring angles
Acoustic guidance with 3 different signal tones
Comfortable overhead measurements thanks to flip display
Calibration: permanent accuracy via reverse measurement
Free hands when working on metal constructions thanks to magnetic holder
Measurement units can be switched
Easy-to-read display
Vertical and horizontal vial
Milled measuring surfaces
Attribute
081.250A DigiLevel Plus 40
Title
Digital spirit level
Slope transfer (ref. mode)
✅
Angle display
✅
Digital 360° slope measurement
✅
90°/45°/0° signal
✅
Overhead measurement (flip display)
✅
Vial accuracy
± 1 mm / m
Display accuracy
1 decimal place
Electronic measuring precision
± 0.1° at 0° … 1°
± 0.1° at 89° … 90°
± 0.2° at 1° … 89°
Display accuracy 0° - 1°
1 decimal place
Display accuracy 1° - 90°
1 Dezimalstelle
Power source
2 x 1.5V LR03 (AAA)
Temperature (working conditions)
0°C … 50°C
Scope of delivery: 
DigiLevel Plus 40
batteries
softbag


Documentation:
Product information sheet not available.

Instructions
Categorie:
Slope indicators
Titel:
Digital spirit level

Industrial Quality (BlackLine) / Professional Technology (OrangeLine):
OrangeLine

Art.No.: 081.250A, GTIN (EAN): 4021563690664
Printversion
Print