MultiFinder Pro
 

Universal detector for locating wood, metal, copper, iron and live wires
div>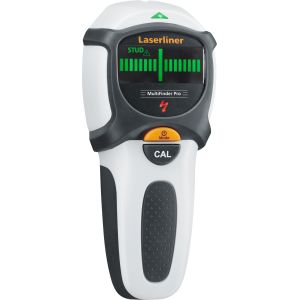 Description: This universal detector reliably locates metal, iron, copper, wood and live wires. The MultiFinder Pro adapts directly to different surfaces, offers reliable drilling, and is suitable for cavity location. It is even able to detect wires underneath plaster when they are not live. Acoustic and optical signals clearly show when items have been located. A permanent voltage warning protects the user. The device is convenient to use due to easy, one-button switching between different measuring modes and the operating instructions on the LC display.
Electronic locating device for wood, metal and pipes
Locating cables under rendering
Drilling point security
Cavity location
Metal location
Locating beams
Auto-Calibration: adjusts the device directly to different substrates
Auto-Cal Plus: allow simple delimitation of measurement objects in the Metal-Scan mode
Clear visual and acoustic signals when detecting objects
High level of safety through permanent voltage warning
Attribute
080.966A MultiFinder Pro
Title
Universal locating device
Operating instructions
✅
Autocalibration
✅
Metal detection
✅
Specific metal detection (iron/copper)
✅
Identify supporting structures (metal/wood)
✅
Locate live wires
✅
Warning for 230 V wires
✅
Detection range AC
110 … 230V,
50 … 60 Hz
Measuring depth
Wood / metal beam location (STUD-SCAN): up to 4 cm depth
Targeted location of live supply lines (AC-SCAN): up to 4 cm depth
Targeted metal location: Ferro-Scan / Non-Ferro-Scan (METAL-SCAN): up to 10 cm / up to 5 cm depth
Location of dead supply lines: up to 4 cm depth
Power source
1 x 9V 6LR61 (9V block)
Operating time
approx. 3 hours
Temperature (working conditions)
0°C … 40°C
Scope of delivery: 
MultiFinder Pro
battery
softbag


Documentation:
Product information sheet not available.

Instructions

Instructions part 2

Instructions part 3

Instructions part 4
Categorie:
Electronic scanners
Titel:
Universal locating device

Industrial Quality (BlackLine) / Professional Technology (OrangeLine):
BlackLine

Art.No.: 080.966A, GTIN (EAN): 4021563703630
Printversion
Print